ABOUT US
Ctesi is one of the main sanitary ware sector's references who wants to leave a mark that will last for the future. Investing in the product's design, development and self-production represents Ctesi's DNA.
We have developed a system where we have total control over the entire process, allowing us to add qualitative value to each stage of the production chain. Our team of more than 150 professionals continues this legacy and prints innovation, technology and new dynamics in each challenge that they face!
The B&M group has been in the sanitary ware sector since 1997 and it offers a wide range of bathroom and plumbing integrated options which stand out for the provided service, their quality and CTESI products' design.
For the last years the B&M Group has fortified its position in the national market by continuously investing in the design, development and creation of its own products. This is how we ensure total control over the value chain and how we aim to find high-quality and more competitive solutions.
The group's 4 industrial units are different but complement each other and work together through a close partnership.
BMwood is responsible for developing bathroom furniture, BMglass develops and produces glass products, BMmetal is an expert in mechanical turning and BMplast works in the thermoplastics' injection.
Different units that share the same high-quality standards!
Extent
Currently, the B&M Group has 4 industrial units that focuses on producing sanitary items in its 18,000 m2 of total covered area. This allows us to value a wide range of integrated bathroom solutions, from their design to their development and commercialization.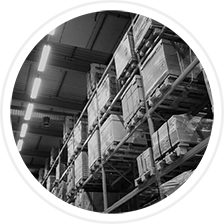 Variety
Besides having a wide range of standard products, the B&M Group also ensures a permanent stock of over 8 thousand products. We also provide tailor-made services and products, always according to the strictest quality standards.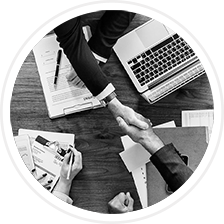 Professionalism
The B&M Group teams combine the our founders' know-how of over half a century with a young dynamic teams of over 150 professionals that are commited to develop sanitary products adn to exceed our customers' expectations.
OUR MISSION, VISION AND VALUES
The B&M Group focuses on designing, developing and producing high-quality sanitary items and aims to provide its customers with an intelligent range of products that stand out for their quality/price ratio.
Our goal is always the same: To innovate every day and to provide products that improve the our customers' life quality.
MissION
Reorganize, Renovate, Reaffirm
Whenever we think of the perfect bathroom we imagine a unique space that adapts to each one's styles and needs. We create a unique combination of Design, Functionality and Adaptability, which makes your vision come true. We want to encourage our customers to do things differently and to be better for themselves and for the world around us. We want to put people at the center of innovation and we are here to make life easier, more fun and to enhance each bathroom's identity.
VisION
To have vision is to have a direction, a desire and aspiration. To have vision is our source of motivation, our commitment and our energy. We want to be leaders in the markets where we work, always with a brave, conqueror and innovative character. We will be even more creative, more determined and faster in our performance and in our products and services' quality.
Values
Audacity
Audacity allows us to face challenges and makes us do more and better. We have a corporate culture that takes the risk. We gather enough genius, power and magic to innovate, create and walk new paths.
Creation
The B&M Group has an inherent ability to create and enhance its clients' creativity by producing innovative solutions for bathrooms and other spaces. We create bathroom environments that adapt to everything and everyone. We encourage creativity while always seeking innovation. Our culture triggers the generation of ideas and values ​​and encourages those ideas.
Change
To change is to transform, to evolve, to improve. We change in order to fulfill new dreams and reach new ambitions. We change to create a better environment, life and world. A culture that promotes a positive attitude towards change.
Resilience
The impossible is one step away from your resilience. We go beyond the limits, we overcome, we reinvent ourselves and go further to provide more and better. Impossible dreams come true.
Innovation
We anticipate trends and use the technology we have at our service. We are guided by excellence and we dedicate ourselves to constant innovation in every single one of our factories. The B&M Group strives to have a positive and creative attitude, which lead to advanced and future-oriented solutions.
Humanize
Our workers are a key to our success. Therefore, we keep working to improve our value as asn employer, in order to attract and keep the most talented and ambitious professionals. Not only do we invest in their skills, but we also ensure a prosperous and attractive work environment and a balanced lifestyle. We are a transparent, open group with a strong commitment to meeting individual needs and seeking social well-being.
Sustainability
The B&M Group is strongly focused on the environment in all its departments and processes. We believe that the future belongs not only to those who have a responsible vision of the planet, but also to those who allow other people to have the same vision.
CTESI has a solid commitment to the products' design and functionality. Therefore, the brand has been recognized as a reference in the market over the last years, and it is the only portuguese brand that has won a Gold A'Design Award and three Silver A'Design Awards in the bathroom products' category.
The A'Design Award and Competition is the world's largest annual design competition that aims to highlight the best design-oriented products that stand out for their excellence in art, design and architecture.
Silver A'Design Award 2017 – Face basin mixer
Silver A'Design Award 2017 – Pipeline basin mixer
Golden A'Design Award 2014 – Straw basin mixer
Silver A'Design Award 2014 – Smooth basin mixer